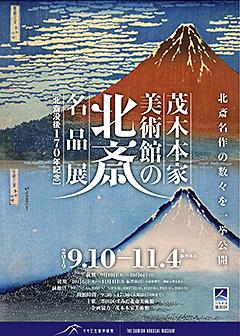 September 10, 2019(Tue.)

- November 4, 2019(Mon.)

 Tokyo, Japan…The Sumida Hokusai Museum will hold a special exhibition to commemorate the 170th anniversary of Hokusai's death, on view from 10 September to 4 November 2019.The Mogi-Honke Museum of Art opened in Noda, Chiba prefecture, in 2006, to exhibit the works of art collected by Mogi Shichizaemon, a twelfth-generation descendent of the Mogi honke (main line), who were among of the founders of Kikkoman Corporation.The exhibition will display about one hundred works related to Hokusai. They will include famous series from its collection, including Thirty-six Views of Mount Fuji, A Tour of the Waterfalls in Various Provinces, and Remarkable Views of Bridges in Various Provinces, a sculpture of Hokusai by the sculptor Yabuuchi Satoshi, and rare privately commissioned prints by Hokusai's students being exhibited in Japan for the first time.It will be the first opportunity to present a thorough introduction to this collection outside the museum itself.