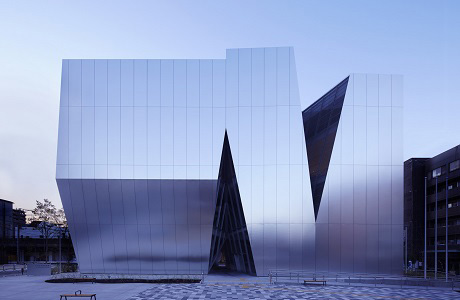 Museum opened as a facility that does not only act as a facility for eternally praising the virtues of this great artist Hokusai of which the local people are extremely proud of having as a native son, but also as a hub for creating culture and art.
Message from Sumida City Mayor
Help us create an iconic, world-class city in Sumida
Hokusai was born in 1760 near the Honjo Warigesui canal, in the vicinity of modern-day neighborhood of Kamezawa in Sumida City. His work influenced a great many artists in Japan and abroad. Hokusai spent the majority of his 90-year life in Sumida, eventually leaving behind many prints depicting this area. I would like the entire world to know the allure of this area that Hokusai loved so much, and that breathes with the spirit of craftsmanship and the Edo culture, and for many people to come visit Sumida. With you, I would most certainly like to make the Sumida Hokusai Museum into a central part of this effort. I humbly ask for your kind support.



The exterior of a building
The building, with an unusual shape formed by the combination of several small structures that take on a variety of appearances depending on where and from what angle you observe them, is in harmony with the sense of scale on Shitamachi's streets. We anticipate the museum to become a new symbol of the district.
Location : 2-7-2 Kamezawa, Sumida-ku, Tokyo-to
Site Area : 700 m2
Floor Space : 3,280 m2
Architect
Kazuyo Sejima
Born in Ibaraki Prefecture in 1956, Sejima worked at the architectural firm of Toyo Ito before going independent in 1987 and establishing the Kazuyo Sejima Architectural Firm.. Sejima is the recipient of numerous awards, including the Prize of Architectural Institute of Japan (AIJ), the Japan Institute of Architects (JIA) Grand Prix, the Mainichi Art Prize, the Venice Biennale International Architecture Exhibition Golden Lion (top prize), and the 2010 Pritzker Architecture Prize. She has created designs for the 21st Century Museum of Contemporary Art, Kanazawa and the Louvre-Lens (a branch of the Louvre Museum) in Lens, France.
Access
5-minute walk from Toei Oedo Line Ryogoku Station A3 exit
9-minute walk from JR Sobu Line Ryogoku Station East exit
Get off at the "Sumida Hokusai Museum (Thugaruke kamiyasiki ato) Stop" of Sumida ward Circular Bus

Contact Us
If you have any queries please email hm-pr@hokusai-museum.jp for more information.