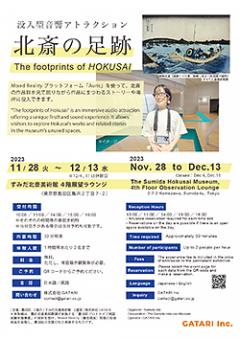 November 28, 2023(Tue.)

- December 13, 2023(Wed.)

From November 28th (Tue.) through December 13th (Wed.), the Sumida Hokusai Museum will be held a demonstration experiment of " The footprints of Hokusai" an immersive audio attraction with multilingual experiential content utilizing MR technology, as part of Sumida City's initiative. It will various information related to Hokusai's works and the places he depicted will be provided by audio MR technology. The immersive audio attraction "The footprints of Hokusai" is an unprecedented first-person sound experience. Visitors can immerse themselves in the stories and places associated with Hokusai's works as they look around the museum's idle spaces.