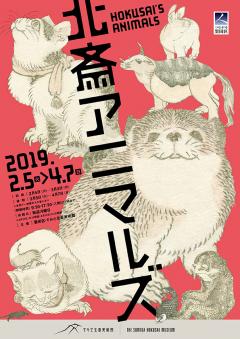 February 5, 2019(Tue.)

- April 7, 2019(Sun.)

Animals have been one of the greatest inspirational resources for numerous artists around the world, Hokusai was certainly not an exception leaving various works of animals. A master of capturing the characteristics of his subjects, Hokusai depicted not only the attractiveness of animals but their distinctive realities. Some of animals represent quite delicate expressions particularly on the shape of their eyes.
This exhibition introduces the portrayals of animals by Hokusai and his pupils: the design for toys and tools in daily life, the illustration for myths and legends, and the embodiment of imaginative animals.