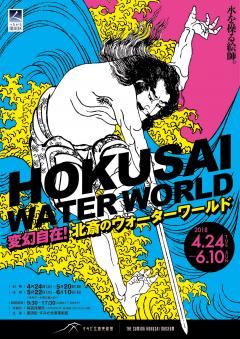 April 24, 2018(Tue.)

- June 10, 2018(Sun.)

Under the Wave off Kanagawa, from Thirty-six Views of Mount Fuji, is an iconic work known and loved the world around as The Great Wave. Hokusai's depiction of that dynamic wave is, moreover, only one of his many works addressing the many faces of water. Portraying water, the shape-changer, is not simple, but Hokusai was able to capture its elusively decisive moments. His many works expressing the lively, fleeting movements of water speak of his acute powers of observation and his mastery of a broad range of painting techniques. What also enabled him to work in this way was his experience of residing in the Sumida area, with all its rivers and canals, and observing the flow, the rise and fall of the Sumida River and other watercourses day by day.
This exhibition consists of four sections: Section 1, Hokusai Dwells in Sumida, City of Rivers; Section 2, The Great Wave; Section 3, A Waterfall Tour with Hokusai; and Section 4, Hokusai and Water, A to Z. In them we present the phantasmagoric forms of water as Hokusai and his students portrayed it. Glistening, wriggling, raising waves, as though a living thing: meet water as Hokusai depicted it to experience a water wonderland—while being astounded by Hokusai's distinctively unconventional compositions. Under the Wave off Kanagawa, from Thirty-six Views of Mount Fuji will be on view throughout the exhibition period. The prints in his A Tour of the Waterfalls in Various Provinces, a thematic series of waterfalls throughout Japan, will be split between the first and second halves of the exhibition period. In addition, selected works from our collection will offer the delights of the many faces of water as captured by Hokusai and his students. How did Hokusai, who never ceased aspiring to become a true artist, depict water? This exhibition offers an opportunity to explore that question thoroughly.