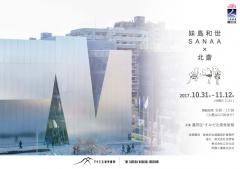 October 31, 2017(Tue.)

- November 12, 2017(Sun.)

Ultramodern architectural design is one of characters of the Sumida Hokusai Museum which dedicated to the works of Ukiyo-e master Katsushika Hokusai.
The Sumida Hokusai Museum is the place creating the community where local people get together. The community creates the culture which will change Sumida city in the future.
The museum was designed by Sejima Kazuyo one of the leading architects in Japan today. The novel outside covered by walls made from aluminum panels that have a slightly mirrored surface.
Sejima's modern architecture and Hokusai's traditional Japanese art works seem conflict each other but have something in common because both draw great deal of global attention.
Hokusai had studied hard latest drawing method at same time he depicted comically warmheartable people. Sejima's work is not only stylish as well as integrates community and people.
This exhibition introduces both innovative artists who attract world each in Edo period and today thought the Sumida Hokusai museum.