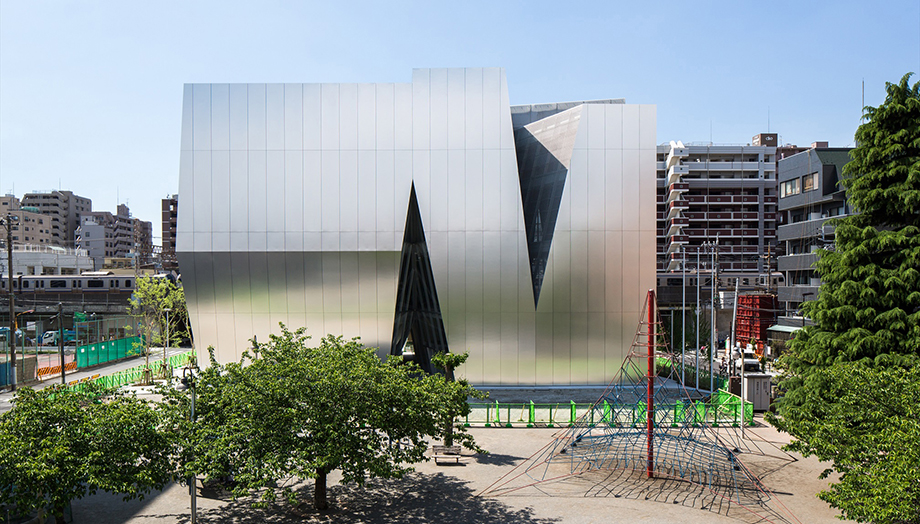 Design Concept
The museum has been planned to blend in with the park and the locality to make it easy for people to drop in for a visit. Instead of consisting of just one building, the slits provide gentle divisions to help the outer façade blend in well with the scale of the surrounding downtown district.The gentle slits in the overall structure represent an approach to the first-floor area and are connected to outside walkways. A sense of having a "front" and a "back" has been avoided to enable access from all points in the surrounding area.
The structure of the building has been sealed in consideration of the storage and exhibit of the ukiyo-e, but it is possible to see inside the museum from the slits outside to provide the local people with a sense of being close to the Sumida Hokusai Museum. It is also possible to enjoy the scenes of the park and surrounding area from inside the museum, as well as enjoying panoramic views of the distinctive features of Sumida City from the top floor, such as the Tokyo Sky Tree. The slits also form a diverse range of spaces within the museum. While the various floor areas of a
certain floor are formed into independent rooms, the floor areas on another floor are combined to form a single room.
The outside walls of the structure are made from aluminum panels that have a slightly mirrored surface. This means the outer walls will gently reflect scenes of the downtown area and allow the building to blend into the general panorama of the surrounding town. Also the gentle fluctuations in the floor area gently modify the reflected scenes to provide a different outer appearance depending on the angle from which it is viewed.
Construction Outline
The Sumida Hokusai Museum will exhibit not only the works owned by the museum, but also those on loan from both Japan and overseas, and it will be equipped with all functions and equipment to ensure that the vulnerable ukiyoe are fully preserved while on display to ensure that we can provide a wide range of temporary exhibits.
The museum has also been designed to exhibit national treasures, important cultural assets and other items designated as culturally important by the government in accordance with the Guidelines for Planning Public Facilities for Cultural Assets recognized by the Agency for Cultural Affairs.
Structure
Reinforced concrete (partly steel construction)
4 stories above ground, 1 story below ground
Total building area:
699.7㎡
Total floor area:
3,278.9㎡
Highest point:
21.9m
●For more information on each floor, please see floor guide page.Go to floor guide page

Architect
Kazuyo SEJIMA

 1987 Set up Kazuyo Sejima & Associates
 1995 Founded SANAA with Ryue Nishizawa
 Sejima was a director for the 12th International Architecture Exhibition of the Venice Biennale in 2010.

Her records of winning awards are the Prize of AIJ (Architectural Institute of Japan)*, the Golden Lion for the most significant work in the International Architecture Exhibition of the Venice Biennale*, the Pritzker Prize*, the Ordre des Arts et des Lettres (Order of Arts and Letters) and the Medal with Purple Ribbon. (* means as SANAA's work)
Site Outline
The site of the Sumida Hokusai Museum was the original site of the Daimyo residence of the Hirosaki domain's Tsugaru clan during the Edo Period. It is said that Hokusai painted a picture of a horse on a folding screen in response to a request from the feudal lord and then returned home, so it could be said that this site has a very deep relationship with Hokusai.
The museum has also been designed to exhibit national treasures, important cultural assets and
other items designated as culturally important by the government in accordance with the Guidelines for Planning Public Facilities for Cultural Assets recognized by the Agency for Cultural Affairs.

Address: 2-7-2 Kamezawa, Sumida-ku, Tokyo
Site Area:1,254.1㎡