関連イベント
The Freer Gallery of Art, Smithsonian Institution
The Freer Gallery, which opened in Washington, D.C., in 1923, is a part of the Smithsonian Institution. The foundation of the museum's collection consists of artworks donated by the businessman Charles Lang Freer (1854-1919), an American industrialist. The Freer Gallery of Art and its adjacent Arthur M. Sackler Gallery, now hold about 12,700 works of Japanese art. The Freer Gallery of Art is home to one of the world's finest collections of paintings, sketches, and drawings by Hokusai. In accordance with Charles Lang Freer's will, the collection is not allowed to be lent out, and the policy has been rigorously upheld by the museum over the century since its founding.
The Tsuzuri Project (Cultural Heritage Inheritance Project)
The Kyoto Culture Association and Canon are carrying out this philanthropic project aimed at preserving the original cultural properties while enabling the use of high-resolution facsimiles of them. The project combines Canon's advanced digital technologies for capturing images, processing them, and outputting them with the skills of Kyoto-based masters in the traditional arts. This unison of technology and tradition make it possible to create high-resolution facsimiles of rare and valuable cultural artifacts from Japan's past, including folding-screen and fusuma paintings and hanging scrolls. The resulting facsimiles are donated to shrines, temples, and museums.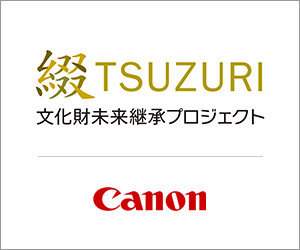 Hilights of the Exhibition
all term:25 June-25 August, 2019
〇:1 term (25 June-28 July)、▲:2 term (30 July-25 August)
Katsushika Hokusai
Six Tama Rivers
(high-resolution facsimile of a painting at the Freer Gallery of Art, Smithsonian Institution, Washington, D.C.)
All
Katsushika Hokusai
Tamagawa River of Plovers (The Sumida Hokusai Museum)
〇
Katsushika Hokusai
"Early Ferns" Chapter 48 of the Tale of Genji
(high-resolution facsimile of a painting at the Freer Gallery of Art, Smithsonian Institution, Washington, D.C.)
〇
Katsushika Hokusai
Woodcutter and Fisherman
(high-resolution facsimile of paintings at the Freer Gallery of Art, Smithsonian Institution, Washington, D.C.)
▲
Katsushika Hokusai
Thunder God
(high-resolution facsimile of a painting at the Freer Gallery of Art, Smithsonian Institution, Washington, D.C.)
All
Katsushika Hokusai
The Ghost of Akugenta Yoshihira, Ripping Apart Nanba no Rokurō,
from A Picture Book of Japanese Warriors, Illustrated, Vol. 1 (The Sumida Hokusai Museum)
All
Katsushika Hokusai
The Lute and White Snake of Benten (Sarasvati)
(high-resolution facsimile of a painting at the Freer Gallery of Art, Smithsonian Institution, Washington, D.C.)
All
Katsushika Hokusai
Courtesan
(high-resolution facsimile of a painting at the Freer Gallery of Art, Smithsonian Institution, Washington, D.C.)
〇
Katsushika Hokusai
Portrait of a Courtesan Walking
(high-resolution facsimile of a painting at the Freer Gallery of Art, Smithsonian Institution, Washington, D.C.)
▲
Katsushika Hokusai
Young Woman Reading Makura no Sōshi (The Pillow Book)
(The Sumida Hokusai Museum)
▲
Katsushika Hokusai
New Year Custom: Wish for a New Year's Auspicious Dream, Makeup on the New Year Morning
(high-resolution facsimile of paintings at the Freer Gallery of Art, Smithsonian Institution, Washington, D.C.)
All
Katsushika Hokusai
A Shinto Priest, Three Women and a Child
(high-resolution facsimile of a painting at the Freer Gallery of Art, Smithsonian Institution, Washington, D.C.)
All
Katsushika Hokusai
Birds, Animals, and Plants Representing the Twelve Months
(high-resolution facsimile of a painting at the Freer Gallery of Art, Smithsonian Institution, Washington, D.C.)
〇
Katsushika Hokusai
Crustaceans
(high-resolution facsimile of a painting at the Freer Gallery of Art, Smithsonian Institution, Washington, D.C.)
All
Katsushika Hokusai
Country Scenes and Mount Fuji
(high-resolution facsimile of a painting at the Freer Gallery of Art, Smithsonian Institution, Washington, D.C.)
▲
Katsushika Hokusai
Breaking Waves
(high-resolution facsimile of a painting at the Freer Gallery of Art, Smithsonian Institution, Washington, D.C.)
All
Katsushika Hokusai
Under the Wave off Kanagawa, from the series Thirty-six Views of Mount Fuji
(The Sumida Hokusai Museum)
All
List of Works
「The Tsuzuri Project: The Art of Hokusai, reproduced from the collection of the Freer Gallery of Art, Smithsonian Institution」
Admission
| | | | | | |
| --- | --- | --- | --- | --- | --- |
| |  Adults | H.S.Univ.Students | 65 and over | J.H.S.Students | Disabled peoples |
| Invividual | ¥1,000 |   ¥700 |  ¥700 |   ¥300 |   ¥300 |
| Group | ¥800 |   ¥560 |  ¥560 |   ¥240 |   ¥240 |
*Group admission applies to 20 or more paying adults.
*Students in elementary school and younger are admitted free of charge
*Junior high, high school, and university students (including technical college, vocational school, and special training college students) will be requested to show student ID.
*Adults 65 and over will be requested to show a document verifying age.
*Persons with a certificate such as the following plus one accompanying person are admitted discount of charge: physical disability, intellectual disability, rehabilitation, mentally handicapped health and welfare, atomic bomb victim health notebook,etc.(Please show your certificate at time of admission.)
*Use of these tickets is limited to the day on which the exhibition is visited, and allow you to see all exhibition room including AURORA (Permanent exhibition room), too