Exhibition Overview
During the Edo period, a culture of humor "seeds of laughter" blossomed, with kyōka poems, humorous books, and comic storytelling enjoyed by the common people. Hokusai and his students deftly depicted the many types of smiling faces—happy smiles, embarrassed smiles, shifty laughter—and gestures and the situations in which those smiles were generated. Hokusai, having portrayed smiles of many kinds, also created series of comical works that invite laughter. This exhibition introduces smile-linked works by Hokusai and his students. 
Exhibition Composition
 Section 1. A Medley of Smiling Faces
  Part 1. Symbols of the Smiling Face
  Part 2. People Who Generate Smiling Faces
 Section 2. A Cornucopia of Smiles
  Part 1. Expressing Laughter
  Part 2. Types of Smiles
 Section 3. The World of Caricatures Hokusai and His Students Created
  Part 1. Hokuai's Students' Caricatures and Satirical Pictures, Plus Caricatures in Sketches by Hokusai
  Part 2. Hokusai's Caricature Series
Exhibition Highlights
This exhibition will feature works related to smiles by Hokusai and his students from the Sumida Hokusai Museum's collection of 116 Hokusai works. Highlights will be approximately 40 caricatures by Hokusai, 32 of which are on display for the first time at the museum, and the popular "One Hundred Ghost Stories" series! The seeds of laughter sown by Hokusai will blossom into countless smiles and give the viewer a rich and enjoyable time.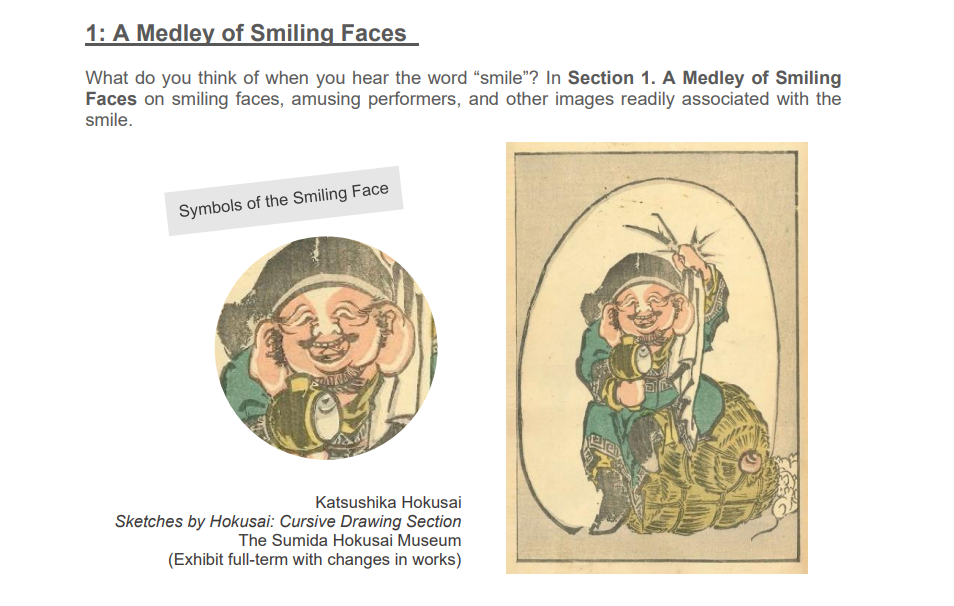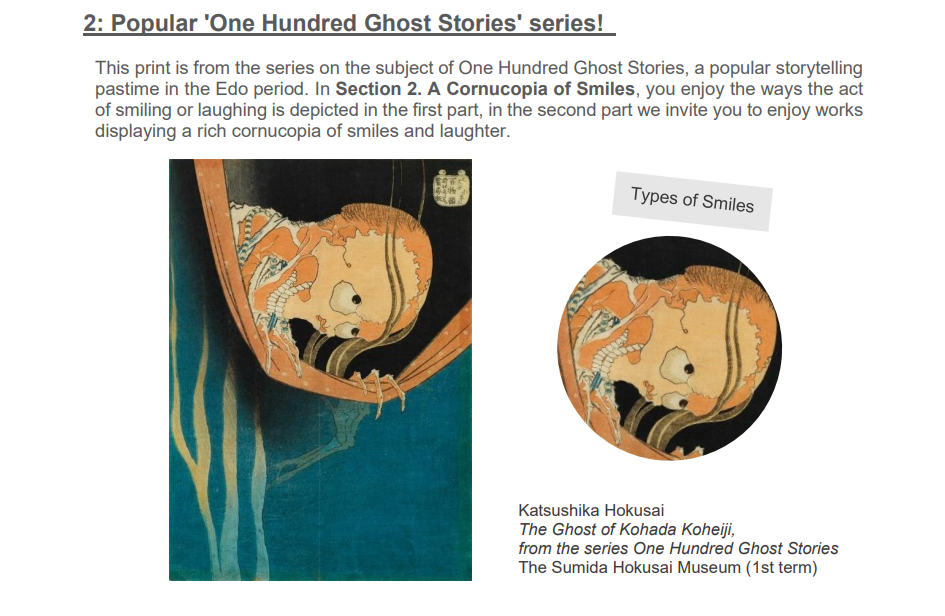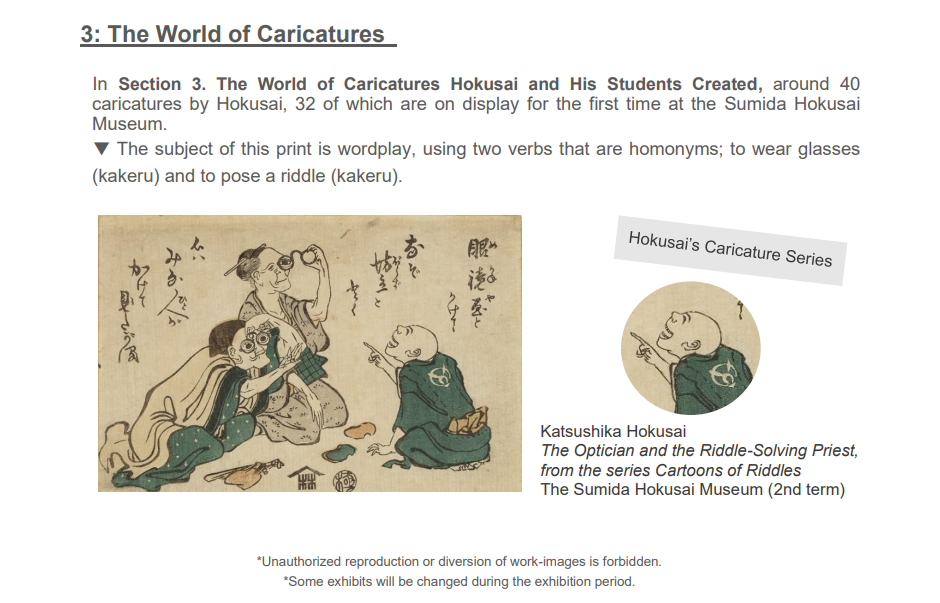 *Hokusai's caricature series, introduce in Chapter 3, Section 2, captures the laughter that abounded in daily life during the Edo period and depicts it with a rich sense of humor. There are some words and expressions that may be considered inappropriate in terms of contemporary values due to the historical background of the time when the works were published. We do not approve of or condone these expressions, but respectfully for the historical background and historical value of the works, we have not removed or altered any of the works. Because we think the customs of the Edo period and Hokusai's art-works are closely connected, and difficult to separate from each other in understanding his works. We hope that you will understand and appreciate Hokusai's work.
List of Works
Admission Fees   
| | |
| --- | --- |
| | Individual |
| Adults | 1000 |
| H.S./Univ.Student | 700 |
| 65 and over | 700 |
| J.H.S. student | 300 |
| Visitors with disabilities | 300 |
| E.S. student | Free |
Reservations for groups are not being accepted for the time being.

Junior high, high school, and university students (including technical college, vocational school, and special training college students) will be requested to show student ID.

Adults 65 and over will be requested to show a document verifying age.

Persons with a certificate such as the following plus one accompanying person are admitted at a discount charge: physical disability, intellectual disability, rehabilitation, mentally handicapped health and welfare, atomic bomb victim health notebook, etc. (Please show your certificate at time of admission.)

Use of these tickets is limited to the day on which the exhibition is visited and allows you to see AURORA (Permanent Exhibition Room) and Exhibition Plus Room, too.
Tickets
Ticket Counter


・Entrance reception on the first floor of the Sumida Hokusai Museum ( from 9:30 a.m. to 5:00 p.m. on days the museum is open.)
Advance Tickets
20% discount on the regular admission fee. *These tickets are limited time sale.
Sales Period: Tuesday, June 20 to Tuesday, September 19, 2023
 *Advance sales at the Sumida Hokusai Museum ticket counter will end on September 18 (Monday/holiday).
 Becouse we will be closed on Tuesday, September 19.
After the advance tickets purchase period
Same-day tickets can be obtained in person at the ticket counter on the first floor of the museum on the day of the exhibition.
No reservations are required to view the exhibition.
Access
The Sumida Hokusai Museum measures to prevent the spread of Covid-19
Visitor Guidelines: Health and Safety During Your Visit for Keeping us All Safe
Please check The Sumida Hokusai Museum's official website for details before visiting.
All visitors are required to...here.​