May 28, 2020(Thu.)

Request of visitors for cooperation on COVID-19 infection prevention

   

The Sumida Hokusai Museum measures to prevent the spread of Covid-19

   Health and Safety During Your Visit for Keeping Us All Safe

(Updated

May 8th

, 2023)

 

Request to all visitors...

Please refrain from visiting the museum if you have a fever or are not feeling well.

▶

Temperature Checks and Hand Sanitization

Before entering the museum

An automatic temperature/hand sanitizer (non-contact type) at the entrance on the first floor of the ticket counter,

Please take your temperature, disinfect your hands before entering the museum.

Before/After viewing

Touch panel at AURORA (Permanent Exhibition Room) on the fourth floor,

Please disinfect your hands with hand sanitizer before and after browsing.

Museum shop / Library

Please disinfect your hands again when you enter museum shop / library.

* The following visitor may be asked to refrain from entering.

・Visitors with a fever of 37.5°C or higher because of a temperature check.

・Visitors with symptoms such as cough, sore throat, fever, or fatigue.

▶ Coughing Manners

Please cooperate with "coughing manners" .

Cover your mouth or nose with a handkerchief / tissue when you coughs or sneezes,or wear a mask.

Sudden sneezes or coughs, cough or sneeze into your sleeve.

▶ Limitations on the number of visitors

Admission will be restricted when the number of simultaneous visitors reaches the specified number.

Depending on the number of visitors staying in the museum, there restrictions on entry to the museum,

exhibition rooms and museum shop.

▶

Please do not touch the display case in exhibition rooms.

▶

Please keep a certain distance from other visitors in the museum.

▶

Please refrain from talking in the museum, including in exhibition rooms and museum shop.

 

Thank you for your understanding and cooperation.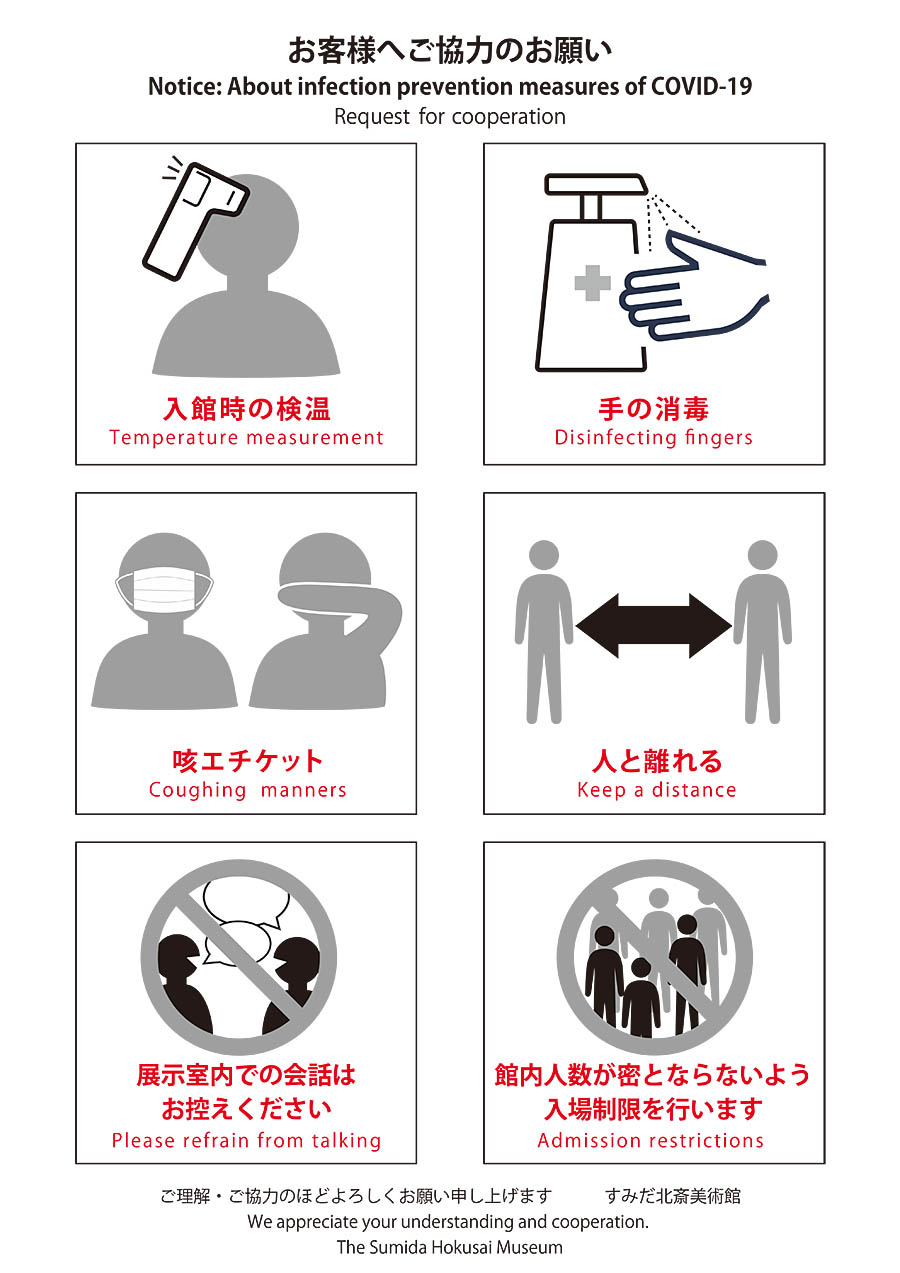 Our efforts to prevent COVID-19
Our staff at the museum who meet in contact with visitors, wear masks.
We have installed a virus splash prevention panel at reception / museum shop.
We do not accept new reservations for group viewing.
We are limiting the number of people in the museum, to allow for safe social distancing.
We may restrict admission and staff will call out to attention visitors to keep the museum a safe and positive environment.
We are providing hand-sanitizing stations for visitors throughout our facilities and conducting more frequent and enhanced cleaning. At the space used by visitors, handrails, elevator buttons, toilet-handle, and tap, we disinfect four times a day. (Water or alcohol are not usable with some display cases partly, only dry wiping is performed.)
*The Sumida Hokusai Museum continues to work to prevent the spread of COVID-19 infection, and we ask you, our visitors, to do the same and help us reduce the spread of COVID-19. You must follow all posted instructions while visiting the Sumida Hokusai Museum, including instructions about coughing manners and social distancing. The Sumida Hokusai Museum reserves the right to modify its hours of operations, capacity, or visitor guidelines as circumstances require and to deny entry or access to any person who fails to follow these guidelines or whose conduct puts our staff, visitors, or property at risk.