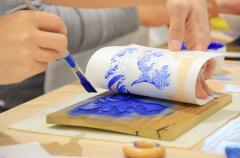 September 12, 2017(Tue.)
- November 18, 2017(Sat.)
Participants will see the process of printing and experience printing by themselves.
"Thirty-six Views of Mount Fuji and One Hundred Views of Mount Fuji- Under the Wave off Kanagawa" included in our collection was resolved by colour and based on its result, wood of cherry blossom was curved as a woodblock by digital laser. The production of Japanese woodblock print is a complex process involving steps, each performed Artist/Block Caver/ Printer. We can understand deeply about Ukiyo-e though those process.

Period

① Tue 12 Sep
② Thu 21 Sep
③ Wed 11 Oct
④ Tue 17 Oct
⑤ Sat 21 Oct
⑥ Sun 22 Oct
⑦ Tue 14 Nov
⑧ Sat 18 Nov


Hours

Each day 10:00~12:00(Door Opening 9:30~)/13:30~15:30(Door Opening13:00~)

Venue

①~④,⑦ the Sumida Hokusai Museum MARUGEN100(the museum lecture hall)
⑤⑥⑧   co-lab Sumida
Kamesawa (co-lab 墨田亀沢)


applicants

Older than 5th grade elementary school

Capacity

8

How to apply

You can apply on the web site。Participation cost ¥2500.http://sanko1.co.jp/cat-blog/850

Admission

\2,500
Only in Japanese
Fee 2500 yen
Plaease apply from here⇒http://sanko1.co.jp/cat-blog/850
Organizer:「隅田川 森羅万象 墨に夢」実行委員会、the Sumida Hokusai Museum、SANKO INC
Cosponsor: Sumida City, 公益財団法人墨田区文化振興財団
Special Sponsor:Asahi Group Holdings,Ltd.