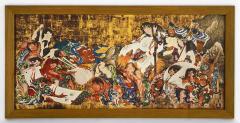 September 15, 2017(Fri.)
- September 17, 2017(Sun.)
For a memorial of this year's Ushijima shrine big festival held every five years, "Susano-no Mikoto Making a Pact with the Sprits of Disease(須佐之男命厄神退治之図)" will be shown as a digital image using 4K projector in the main shrine. It is the main work restored by latest digital technology and traditional artisan skill.
This show will apply animation and new way of appreciation ex. enlarging detail and comparing color. The votive picture is expanded its new world by digital technology.

開催日

Date: Fri 15 September Sun 17 September

開催時間

Time: 18:00-21:00

集合場所

Venue: Main shrine at Ushijima shrine
Admission: Free
Organizer: TOPPAN PRINTING CO., LTD.