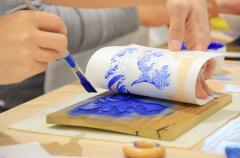 September 12, 2017(Tue.)

- November 18, 2017(Sat.)

Participants will see the process of printing and experience printing by themselves.
"Thirty-six Views of Mount Fuji and One Hundred Views of Mount Fuji- Under the Wave off Kanagawa" included in our collection was resolved by colour and based on its result, wood of cherry blossom was curved as a woodblock by digital laser. The production of Japanese woodblock print is a complex process involving steps, each performed Artist/Block Caver/ Printer. We can understand deeply about Ukiyo-e though those process.